Primo Jack Daniel's Edition Oval X-Large Charcoal Grill Head
Call Us Now to receive the Lowest Prices Online:
(415) 503-9177

Free Shipping. No Sales Tax Outside of CA.
Estimated Handling Time
Product Ships in 5-7 business days.
Estimated Shipping Time
Please allow 2-3 Days for Delivery.
---
Primo Grills XL Charcoal - Jack Daniel's

---
 Description
Our exclusive ceramic grill that celebrates American ingenuity, quality craftsmanship and the independent spirit of grillers and barbecuers who share our passion for great food and extraordinary whiskey. The X-Large Charcoal Primo, Jack Daniel's Edition, provides the largest cooking area and the patented oval shape offer superior cooking efficiency and accessibility. Grill, bake, roast, or smoke any food.
Select from multiple installation options to find the best for you! The following are available as an additional purchase: a primo cart, cradle, table or All-In-One package. The All-In-One package comes with the grill head, an ergonomic handle, cradle stand, side tables, ash tool, and grate lifter. All options are the perfect way to complete your grill purchase.
Grill Specifications
Cooking Icon
Cooking Area:
400 sq in. | 2,580cm2

Thermometer Icon
Temperature Range:
151 - 850 F+ | 66C-

Cooking Grate Icon
Optional Rack System:
280 sq. in. | 1,806cm2

Weight
Weight:
250 pounds
Grill Capacity
Chicken Icon
8 Whole Chickens

Turkey Icon
2 Whole Turkeys

Steak Icon
12 Steaks

Burger Icon
20 Burgers

Ribs Icon
10 Racks of Ribs

Ears of Corn Icon
12 Ears of Corn 
Download
BROCHURES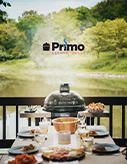 Primo Brochure English