Empava WC08D Dual Zone Wine Cooler 70" Tall Wine Fridge
Call Us Now to receive the Lowest Prices Online:
(415) 503-9177

Free Shipping. No Sales Tax Outside of CA.
Estimated Handling Time
Product Ships within 1-3 days.
Estimated Shipping Time
Please Allow 5-7 business days.
---
Empava WC08D Dual Zone Wine Cooler 70" Tall Wine Fridge
---
Description 
Advanced Cooling System
Empava wine cooler refrigerator is engineered with a powerful high-efficiency compressor and 3 convection fans to evenly distribute cold air throughout the cabinet so that the whole cooler can be maintained in ideal climate settings. Ensure that every bottle can keep the same humidity, preventing hot spots, frosting, and uneven cooling.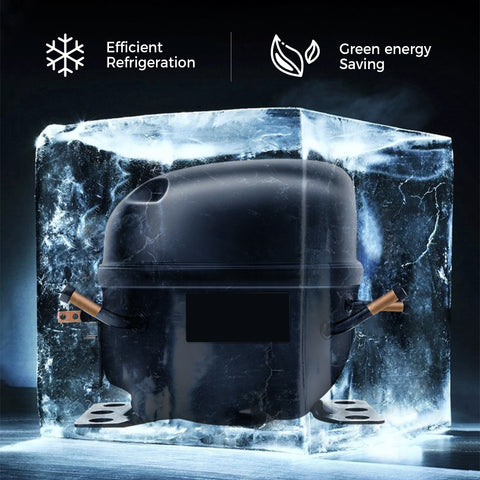 Dual Zone Temperature Control
You can customize the temperature by touching the control panel. Upper zone 40°F -50°F(5℃-10℃), lower Zone 50°F -66°F(10℃-18℃). The two zones feature different temperatures so that your wine is perfectly chilled at its optimal temperatures for pure enjoyment. The internal soft blue LED light keeps your wine in a beautiful environment, and helps the selection of your favorite wine at all times.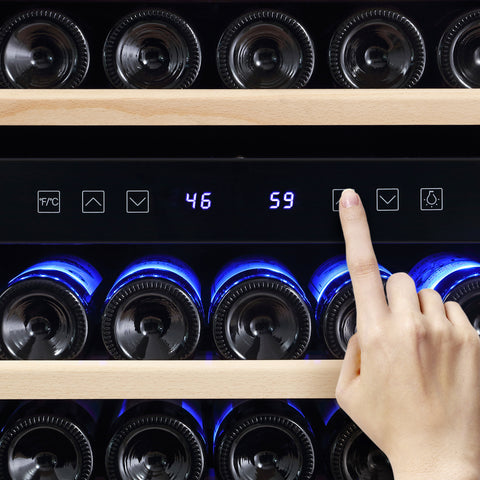 More Than A Wine Cooler
The Empava wine cooler is equipped with 15 adjustable and removable beech wood shelves, which can hold up to 160 bottles of your favorite wine in different sizes. As for irregular-shaped bottles, it is easy for you to store them by removing shelves. 14.3 cu. ft. capacity is suitable for wine bottles, beer cans, soft drinks, milk, water, snacks, and much more!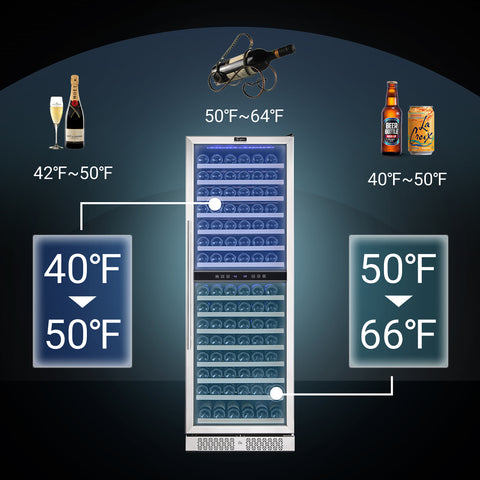 Support Both Freestanding And Built-in Installation
This Empava wine cooler can be left as freestanding or it will fit in a 23.8-inch gap underneath your kitchen worktop and a zero-clearance hinge allows for cabinet depth integration. The reversible hinged door allows you to install the door for either left or right-side opening. The roomy Empava Double Zone 160 Bottles Wine Fridge slides easily between standard base cabinets to create the ultimate wine cellar in your custom kitchen.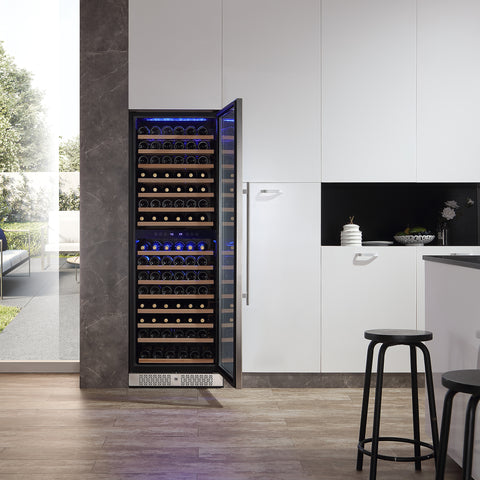 Extraordinary Construction
Smudge-resistant, easy clean 304 stainless steel stamped door includes Low-E glass for improved energy efficiency. The Empava wine cooler features a stainless-steel handle which makes it easy for you to open the door and gives the cooler a sleek and discrete look.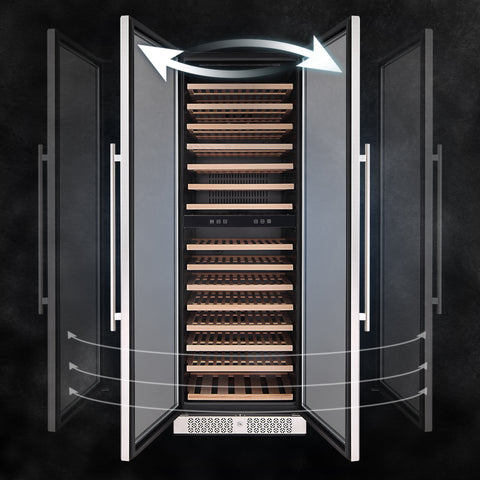 Specifications
| | |
| --- | --- |
| Width  | 23.4" |
| Depth | 26.8" |
| Height | 69.6" |
| Net Capacity | 404L |
| Net Weight | 228.2lbs |
| Voltage | 110-120V 60Hz |
| Input Power | 180W |
| Climate Class | SN.N. |
| Warranty | 1 Year |
| Wine Storage | 160 Bottles |
| Energy Consumption | 0.578kWh/24H |
| Upper Zone Temperatures | 40°F -50°F(5℃-10℃) |
| Lower Zone Temperatures | 50°F -66°F(10℃-18℃) |


Shipping and Returns 
Shipping:
We offer "free ground shipping" for all US orders except Alaska, Guam, Hawaii, and Puerto Rico.
Shipping Method
(1) Standard/small orders ship out via USPS, UPS, and FedEx.
(2)For large items( pizza oven etc.), multiple items, or large orders we use LTL freight.
Shipping Time: Standard shipping: 5-7 business days. LTL shipping: 10-14 natural days.
Once an order has shipped we are unable to change or modify it for any reason. For orders that use the LTL shipping method, if the consignee requests to change the destination, the shipment will return to the shipper and we will issue a refund less the 20% restocking fee.
* All LTL orders need to be accepted for delivery within 5 days of the shipping carrier contacting you to set up a delivery date. For any order not accepted within 5 days, refused, or return to the sender a fee of 20% will be assessed.
For all pickup orders, please state in the order that you intend to pick up the order from our warehouses. All orders must be picked up by the name listed on the order when placed and with a valid identification card. If the order is not picked up by the end of 7 days since the order was placed. We will cancel the order and issue a refund.
Order Processing Time: 1-2 business days.
*Business days don't typically include weekends, however, Saturday and Sunday deliveries may occur in certain zip codes.
*If you need to request a cancellation or make any changes to your order. Please contact our customer support as soon as possible by telephone at (415) 503-9177 or email at (info@modernsproductions.com) Monday - Friday from 10 am -7 pm PST. Unfortunately, once an order has been sent to our warehouse we cannot guarantee cancellation or changes as to we are working quickly to get your order to you.
*Empava Appliances is not responsible for any USPS, UPS, FedEx or LTL delays in delivery.
Returns:
1: If you would like to return an item, please contact our customer support via email at
(info@modernsproductions.com)
or telephone
 (415) 503-9177
Monday - Friday from 10 am -7 pm PST to request a return within 30 days of delivery for a full refund. When contacting our support team ensure you provide them with your return reason.
2: Returns made without approval will not be accepted as to we have different return addresses for different products.
3: For returns due to buyers remorse (ie: Order by mistake, Does not fit, Change my mind, No longer needed, etc) customers are responsible for the return shipping cost along with a 20% restocking fee applied. You should also save your tracking number to confirm when your item has been received at our location. Items being returned due to defects or quality issues a pre-paid return label will be provided to you upon you providing us with any pictures/videos showing the issue you are encountering.
4: If an item is found to be damaged in shipping. Do not accept or sign for the product. Simply refuse the package with the carrier and contact our customer support asap.
Warranty
Warranty Time: 2 Years
Warranty Covered Parts

Glass doors, Circuit Board, Shelf, Oils tray, Oil tray cover, Square light components, Heater, Circulating fan assembly, Overheat protector Power Board, Display board, Micro Switch, Low-voltage power supply board, Main power board, Accessibility touchpad-right, Main function touchpad-left, TFT display panel, Display PCB board, Bottom electric heating tube, Back electric heating tube, Top electric heating tube, Upper-temperature probe, Lower temperature probe, Circulation fan, Cooling fan, Door lock assembly, Small square lamp