Jackery Solar Generator 1500 (Explorer 1500 + SolarSaga 100W)
Call Us Now to receive the Lowest Prices Online:
(415) 503-9177

Free Shipping. No Sales Tax Outside of CA.
Estimated Handling Time
Product Ships within 1-3 days.
Estimated Shipping Time
Please Allow 5-7 business days.
---
Jackery Solar Generator 1500 (Explorer 1500 + SolarSaga 100W)
---
Description 
THE JACKERY SOLAR GENERATOR 1500: Integrate and combine the Explorer 1500 portable power station and solar panels into one entity - the Solar Generator 1500, comes with three bundles including the 4 SolarSaga 100, simplified versions of 2 SolarSaga 100X and 1 SolarSaga 100 respectively. These customized bundles are ideal for camping, Overlanding, fishing, any outdoor trips.
POWER UP TO 85% OF APPLIANCES: Featuring a massive 1534Wh capacity, 1800 running wattage (3600 surge power), the Explorer 1500 is equipped with 3*AC Pure Sine Wave AC outlets, 1*PD 60W USB-C Port, 1*Quick Charge 3.0 Port, 1*USB-A Port, 1*12V carport. It will power up to 85% of your appliances, including home devices, lights, power tools, microwaves, refrigerators, and other larger power demands.
FAST SOLAR RECHARGING: With Solarpeak™ technology (upgraded MPPT technology), the Solar generator 1500 can truly identify the biggest input available in real time and maximize power extraction under all conditions, allowing you to charge the battery from zero to 80% within 4 hours.
CLEAN, QUIET, EASY TO USE: Zero emission, generating power directly from the sun; nearly silent while operating; one easy button to start. 

THE EXPLORER 1500 VALUES

Massive Capacity and High Watt Power: 1534Wh (60.9Ah) capacity, Lithium-ion Battery, 1800W Running Power and 3600W Surge Power
Multiple Output Ports: Featured with PD 60W USB-C ports, 2 USB-A ports (including QC3.0), and 3 AC outlets, the Explorer 1500 can power 7 appliances all together at once
Safe Design: With 6-layers safety system and Battery System Management to monitor individual cell and battery health
THE SOLARSAGA 100W VALUES
High Conversion Efficiency Solar Generator:
High conversion efficiency up to 23%, building a Portable-Solar-Generator system together with Jackery Explorer 1500/1000/500/300 power station
Solar Charger with USB Outputs:
Equipped with 1* USB-C output port and 1* USB-A output port, charging multiple portable devices at the same time
Lightweight and Durable Solar Panel with Kickstand:
Foldable design; Weighs only 9.1 lbs; Convenient to carry; Adjust any angle freely with the built-in kickstand; Made from durable materials;


Green

Captures energy directly from the sun instead of fossil fuel; creating zero carbon dioxide or other pollutants



Quiet

The Explorer 1500's internal build is steadily designed to operate without any noise


Easy to Use

Simply press the "ONE BUTTON" to start the solar generators


Only Initial Cost

No extra cost on fuel and maintenance

Air Pollution
Uses fossil fuel to generate electricity, adding carbon dioxide in the atmosphere, making our living condition worse

Noisy
It is loud and disturbing

Hard to Start Up, WAY LESS User-Friendly, Time Consuming
Comparing with our "One Button Starts All" portable solar generators, the traditional generators are less convenient

Ongoing Cost and High Maintenance
Need to spend $$$ for gasoline, changing

PREPARE YOUR SOLAR GENERATOR
Jackery Solar Generator 1500 is an integrated system in combining the Explorer 1500 and SolarSaga 100W solar panels. The solar panels convert energy from the sun into electricity, storing in a portable power station. The system is committed to developing green, quiet and convenient energy solutions.

Solar Recharging Steps:

Step 1. Connect the first panel - find the "DC interface" on the back of Solar Saga 100W and plug it in solar power cable;

Step 2. Connect the second panel - follow step 1;

Step 3. Connect the solar panels and the solar power cable with the Explorer 1500's DC input.

CARRY WHEREVER YOU WANT TO GO

We believe our off-road travels should be easy and less complicated. The Jackery solar generator 1500 offers happiness and convenience in every moment of your trip by collecting and storing power throughout the whole journey. It will make you worry less about the power source, and gain more comforts for your outdoor life.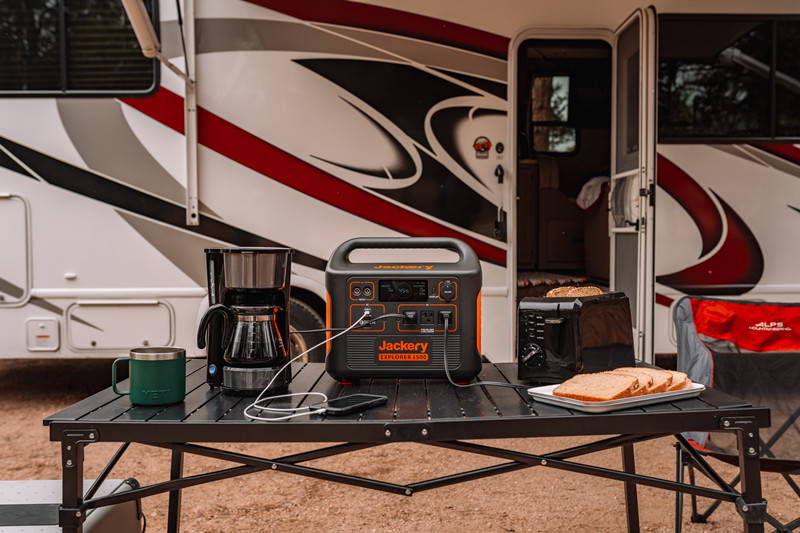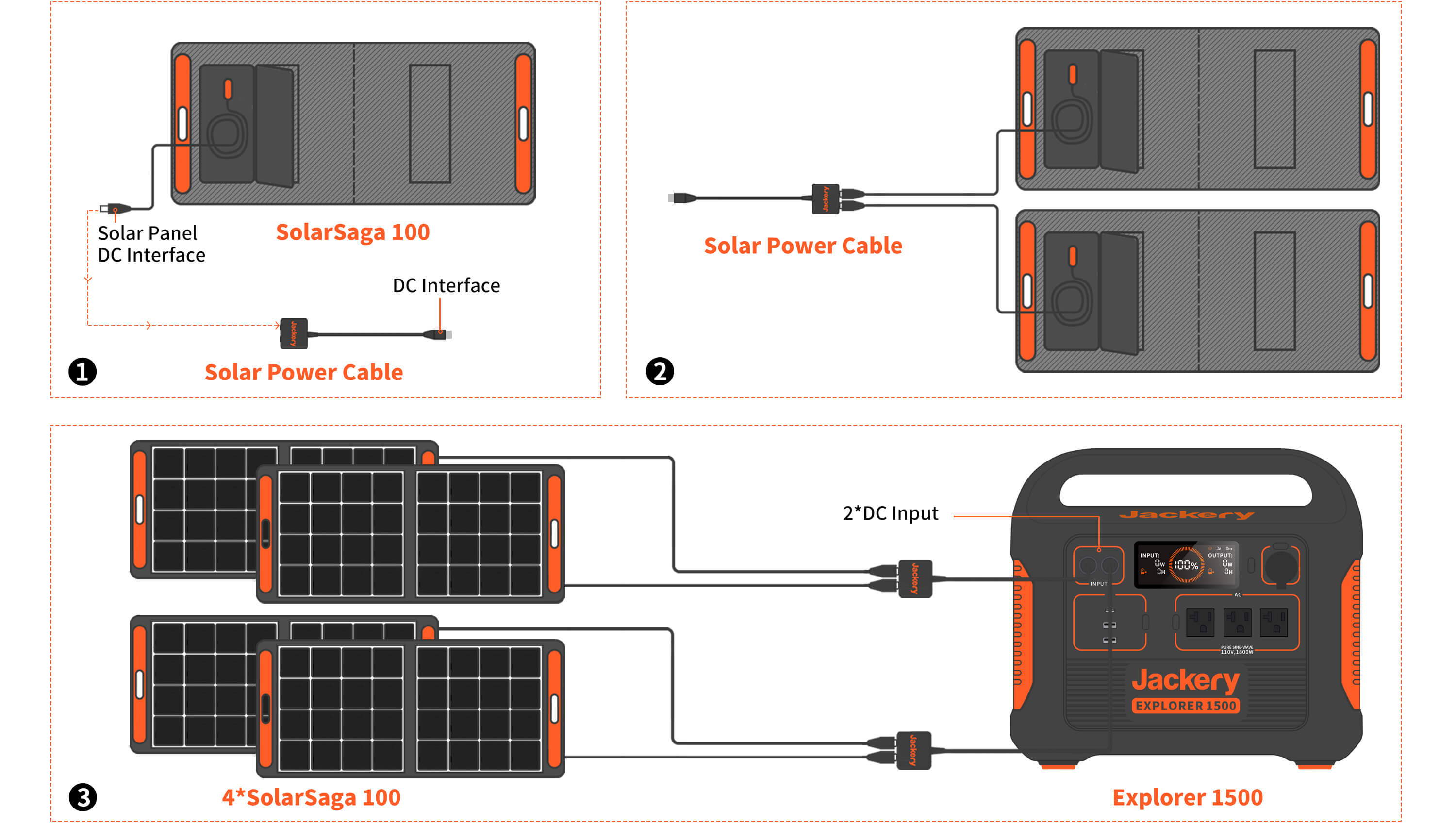 e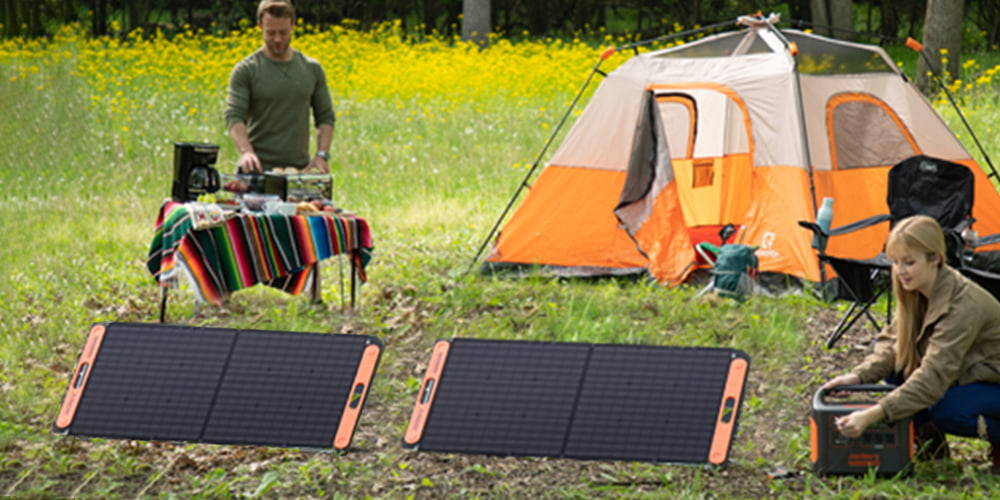 Explorer 1500
1* Explorer 1500 Portable Power Station

1* Car Charger Cable

1* AC Adapter

2* Solar Panel Parallel Adapter (Cable)

1* User Manual
     SolarSaga 100/SolarSaga 100X
1*

 

SolarSaga 100/SolarSaga 100X
1*

 

User Manual
---