Bull Grills Brahma Drop In Grill Unit with Lights 57568
Call Us Now to receive the Lowest Prices Online:
(415) 503-9177

Free Shipping. No Sales Tax Outside of CA.
Estimated Handling Time
Product Ships in 5-7 business days.
Estimated Shipping Time
Please allow 2-3 Days for Delivery.
---
Brahma Drop In Grill Unit with Lights
---
Standard Features
90,000 BTU's
304, 14 Gauge Stainless Steel Construction
5 Cast Stainless Burners
Infrared back burner 15,000 BTU's
Single Piece Dual Lined Hood
Piezo igniters/Zinc Knobs
Solid Stainless Steel Grates
Heavy Duty Thermometer
Warming Rack 266 Sq. In.
SS Rotisserie Motor
Twin Lighting System
Cooking Surface 1026 Sq. In.
CSA Approved
TURN A BULL LOOSE IN YOUR BACKYARD
The Brahma grill is a 5-Burner 38" stainless steel built-in gas barbecue grill with an Infrared back burner. The five solid cast stainless steel burners and rotisserie kit evenly distribute heat using the proprietary ReliaBull technology, minimizing hot and cold spots. A heavy duty temperature gauge measures internal cooking temperatures, so your entrée is grilled to perfection. With a stainless steel grease tray and easy-to-clean drip tray liner, cleaning up after a meal is a snap. The Brahma's fire box, solid stainless steel cooking grates, and burners are all guaranteed for the life of the grill. The grill's functional and durable design will surely impress guests.
360° View
Drag the image left or right to see a detailed, 360-degree view of the island.
When you buy a grill, don't you think you should be able to use the whole thing?
At Carddine BBQs & Spas San Diego, we think so. That's why, with the help of the engineering experts at California Polytechnic, we created the ReliaBULL technology.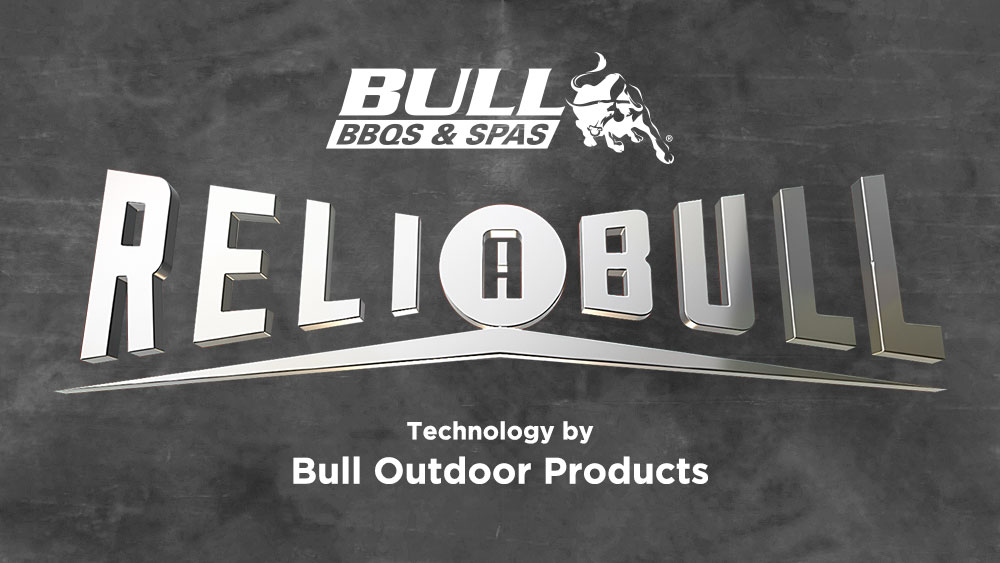 Typical Grills
Typical grills feature unpredictable heating across the surface.
ReliaBULL Technology
ReliaBULL technology was created to eliminate uneven heating on your grill, making your outdoor grilling experience extraordinary.
This new technology improves heat distribution on your grill by 50%. The ReliaBULL flame tamers create a more even grilling surface, eliminating hot and cold spots, so that you can use your entire grilling surface.

Bull is so confident in its fabulous lineup of premium outdoor grills that Lifetime Warranties* come standard on all fire boxes, cooking grates and on all cast stainless steel burners. With 9 durable grill heads to choose from, Bull has the perfect grill just for you.
* Specific warranty details provided with each Bull product.