Alorair Purisystems HEPA 600 UVIG Air Scrubber X0037QBEG9
Call Us Now to receive the Lowest Prices Online:
(415) 503-9177

Free Shipping. No Sales Tax Outside of CA.
Estimated Handling Time
Product Ships within 1-3 days.
Estimated Shipping Time
Please Allow 5-7 business days.
---
Purisystems Air Scrubber with 5-stage Filtration system X0037QBEG9
---
Description 
Indoor air quality can go unnoticed much of the time, but it affects us more often than we know. To improve air quality, knowing the formula and the right gear makes it a whole lot easier. During remediation work, construction, or after building damage like flooding, a fire, or demolition works, it's especially important to ensure that the air is free from floating dangers.
A popular option is the HEPA 600 UVIG air scrubber. Ideal for is used in sewage repair, water and fire damage repair, construction sites, decoration projects, and dust and odor control.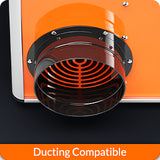 Optional Air Outlet Duct
Use this rigid, reinforced ducting on the inlet and outlet of your air scrubber to prevent suction-induced collapse. It's also a great accessory for jobs where you need to route ducting around a bend or corner – where lay flat ducting could kink and result in reduced airflow. (Sold separately.)
Easy to carry
As a portable air scrubber, the air scrubber machine has a folding handle, so it's easy to transport the air scrubber from one room to another, from downstairs to upstairs.
Storage Straps
Use Heavy-Duty Wrap for storage and organization of power cords, extension cables, rope, and more. Grommet makes it easy to hang hose and keep clutter-free. It's the perfect design that comes with an air scrubber.
 Air scrubber with advanced 5 stages filtration
The HEPA 600 UVIG has a 5-stage filtration, It is a Merv-10 filter that can capture large particles and HEPA class Merv-17 filters that are tested and certified at an efficiency rate of 99.97% at 0.3 microns. the air cleaner puts out superior air quality – be it when dealing with concrete dust, fine sanding dust, or gypsum dust. In this way, you can be sure that the entire room benefits from cleaner air.
Air scrubber with intuitive control panel
Specifications
Power 2.6 amps, 115V, 60 Hz
Duct sizes inlet Intake: 10 in.
Duct sizes Outlet Intake: 6 in.
Cord 23 ft Power Cord
Outlet 15A UL Rated GFCI Duplex Receptacle
Static pressure 2.8 in. (H2O)
Airflow 270~600 CFM
Sound Pressure Level <58 dBA
Pre-Filter ; Hepa / Activated Carbon Filter
Weight: 36 lbs (18.0Kg)
Dim(W × H × D) : 17.8 x13.8 x16.3 inch
Shipping Dim (W x H x D) : 20.2 x16.8 x19.3 in
Overview 
Multi-Function Control Panel:
Hour Meter:

 

Hour Meters track and record air scrubber running time to assure proper equipment maintenance.

Change HEPA Filter Indicator: 

The indicator light will alert the operator when filters are loaded or when airflow is greatly decreased. Filters should be inspected and replaced. Once filters are replaced the light will go off.
Variable Speed Switch:

 

The variable speed dial can be set from 260 -600cfm depending on the desired vacuum flow.

Circuit Breaker Switch: 

The circuit breaker switch is used to protect the controls of the machine. It will trip if the maximum amperage is exceeded.

Function Switch: 

For turning ON/OFF UV-C light and ionizer function.

Auxiliary "GFCI" protected Outlet -115v:

 You can daisy-chain up 3 to the maximum, with a combined airflow speed of 1800 CFM
Use the HEPA 600 UVIG air scrubber, air all around, let you breathe fresh air in the working area.
Manuals & Box Components 
1 - Purisystem HEPA 600 UVIG Air Scrubber
1 - 3-Stage Filter (MERV 10, HEPA / Activated Carbon)
1 - Built-in UV-C Light
1 - Power Cord
1 - User Manual

Returns and Warranty 
TECH SUPPORT & WARRANTY
All the Dehumidifiers are Now Out with 1 Year Complete Warranty and 3 & 5 Years Limit Warranty

1 Year Parts & Labor
3 Year On Coil
5 Year On Compressor

Air Scrubbers and Air Movers are Now Out with 1 Year Complete Warranty and 10 Years Limit Warranty

Same Day Shipping:No Tax,No Shipping Fees,Door to Door Delivery - Ship From Local Warehouse within 8 Hours Based in United Kingdom, US Continent

Please Note : We are Leading Retailers of Dehumidifiers , Air Scrubbers and Air Movers , All the listing Item are 100 % Original Out of Our WorkShop, OEM Service Offered and Can Be SUPPLY DISTRIBUTORS NATIONWIDE . Bulk Purchase or Distribution Partnership Request Please Feel Free to Contact with Us.

Customer Support Line (415) 503-9177
Call us for any questions you may have on how to treat particular Moisture or which model to choose.
Return policy

If the return is caused by the consumer, consumer should be responsible for the shipping fee. The specific fee should be based on the express company you choose.
If due to our reasons, the goods received are damaged or not correct, and the consumer is not required to bear the shipping fee for this reason.
No restocking fee to be charged to the consumers for the return of a product.

The policy stated below applies to air scrubbers, dehumidifier accessories, air movers, and dehumidifiers.
To return the Alor Air product, the return period is limited to just 30 days for finished goods and 60 days for parts. The days are counted from the date the purchase was made from our local distributors or Alorair website. Discounted products and consumables cannot be returned.

Additional Support

We shall inspect the unit and give your inspection results free of charge within SEVENTY TWO hours.
1. If the product is then returned 30 days from the date it was purchased, we will pay the shipping charges as well as the cost of returning it to you.
2. If you return the product after the expiration of 30 days, the customer shall pay all the shipping costs.

Returns:

You need to provide us with proof that you bought the product from us. A serial or purchase number may be used. We will then advance the product return process. We will also inspect the product free of charge and get back to you within 4 days after we receive the return policy.
In the event it is established that the damage caused falls within the scope of the warranty, (you may refer to warranty registration) we will replace or repair the product at our own expense. If we don't discover the cause of the defect or we establish that the defect is not within our scope, then we shall have the product replaced or repaired at the customer's expense. In either of these conditions, the purchaser must pay the shipping costs. Note that it is necessary that the product should be in exactly the same condition it was received and it must also be in the original package.

Refund:

If the buyer wants to cancel any order agreed upon and negotiated with our staff, the company will initiate a refund to the chosen way of payment.
The refund may take up to 10 days before it is reflected on your statement. Notice that this may vary depending on the payment provider.

Exchange:

If the buyer is interested in exchanging the product bought from our distributors or Alorair website. We will listen and help. However, this is limited if the return is effected in 30 days the product was purchased. Any extra product expense will be refunded. However, the buyer must be ready to pay for shipping expenses.
The product to be exchanged must be in exactly the same condition it was received. It must also be in an original packaging.